Let the birds and the bees loose with one of these sumptuous and serene weekend—or mid-week!—retreats.
by Diana Ballon
Published in Travelier Magazine on April 28, 2021
Hoping to escape mundane domestic routines and find a luxury destination for you and your paramour? Or maybe you want to nurture a blossoming new relationship? Look no further than these bucolic Ontario retreats this spring—and summer and fall!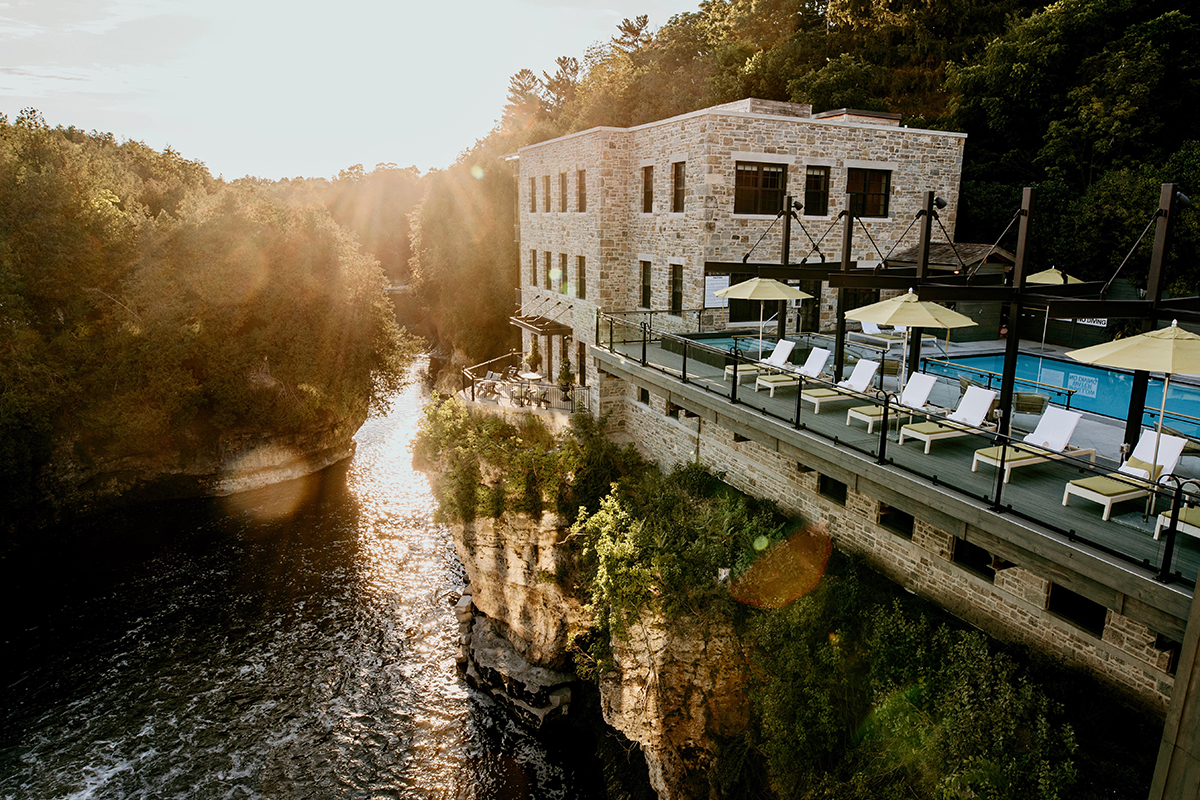 Elora Mill Hotel & Spa
Part of the community for more than 175 years, the Elora Mill Hotel & Spa lords it over the falls of the Grand River and the Elora Gorge.
---
Elora Mill Hotel & Spa
Perched atop the Elora Gorge just over an hour's drive from Toronto, this luxury boutique hotel was formerly a historic inn and was a gristmill long before that. After a $27-million makeover in 2018, the property now combines authentic rustic architecture with European charm. Think: original stone walls with ornate chandeliers and fine local art.
Here you can sleep and dine with views of the gorge. Enjoy a culinary adventure in the two-storey restaurant, its food program masterminded by executive chef Jonathan Gushue, formerly of Langdon Hall and the Fogo Island Inn. And spend the night in one of 30 French-style guest rooms, which are both rustic and modern. Many of the rooms have fireplaces, and all have expansive bathrooms, locally crafted furniture and wood floors.
Make time for an afternoon at the spa, where you can enjoy a freshly pressed juice and a meal, followed by a dip in the outdoor pool and hot tub before your treatment. And before returning home, do roam around the quaint little town of Elora, dubbed the most beautiful village in Ontario by Group of Seven painter A. J. Casson.
Langdon Hall Country House Hotel & Spa
It's hard not to be a bit gobsmacked when you first lay eyes on this stately manor house, framed by four massive pillars at the top of a windy hill in Cambridge. Just an hour's drive from Toronto, Langdon Hall is the only Relais & Châteaux property in Ontario—with luxurious guest rooms and suites and AAA/CAA five-diamond dining under esteemed executive chef Jason Bangerter. The restaurant serves seasonally inspired dishes, relying strongly on ingredients from their own gardens and from local farmers and foragers.
Stay in a room in the Main House, in one of the Cloister rooms overlooking the croquet lawn or forest, or in the Stable with a view of the orchard and lily pond. Most of the 60 rooms and suites have wood-burning fireplaces. All have feather beds. And many have separate sitting areas with the option to bring a canine friend.
Be sure to make time to enjoy their award-winning spa and to roam the 12 kilometres of trails through beautiful, old-growth Carolinian forest. You can also go for a spin on one of their Townie bikes, following the Great Trail along the Grand River to the pretty nearby community of Galt.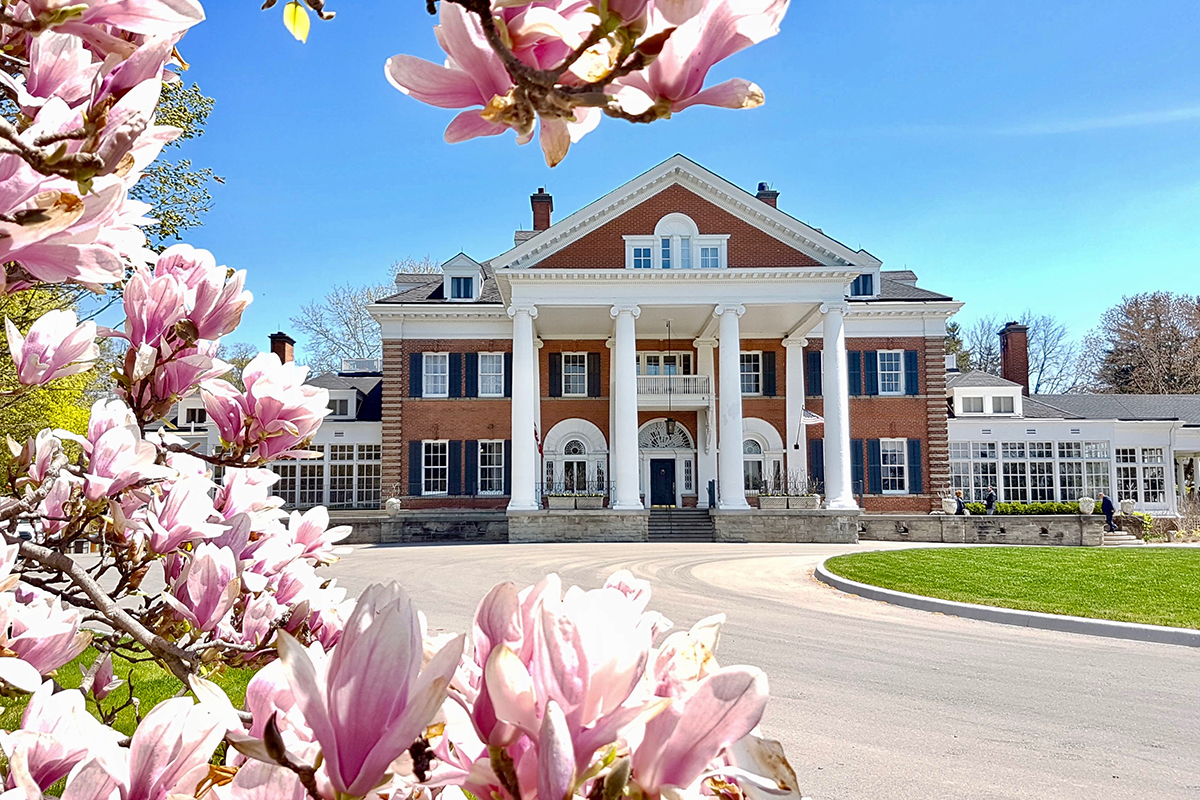 Langdon Hall Country House Hotel & Spa
Nestled in the Carolinian Forest, Langdon Hall is a classic, one of 14 Relais & Château properties in Canada.
---
Killarney Mountain Lodge
If you're like me, the granite rocks, windswept trees and clear cool waters of Georgian Bay can get in your bones. Killarney Mountain Lodge offers a perfect vantage point to enjoy the area, with the white quartzite-tipped La Cloche Mountains as backdrop.
This resort offers pretty much every form of amusement: free use of bikes, kayaks, canoes and paddleboards; an outdoor pool and sauna; and shuffleboard and pool in the games room. You can also eat in several different places on-site: our favourite was the more casual, octagonal-shaped Carousel Lounge, which has a big open fireplace at its centre, with comfortable seating and big glass windows overlooking Killarney Channel. (We also liked the deliciously fresh fish and chips at Herbert Fisheries, less than five minutes from the lodge on foot.)
The most sought-after accommodations here are the private cabins—the Killarney Suites—and the two-bedroom Pilot House at the water's edge. Other worthy options are their newly renovated Pine Lodge rooms in the heritage section of the lodge, and their King View suites, which have Muskoka chairs on the verandah outside the rooms so you can gaze out at the water.
Hiking enthusiasts will enjoy the Morning Lighthouse Trail on-site; a loop trail on George Island, a short paddle across the channel; and, of course, the many options at Killarney Provincial Park, a mere 12 kilometres away.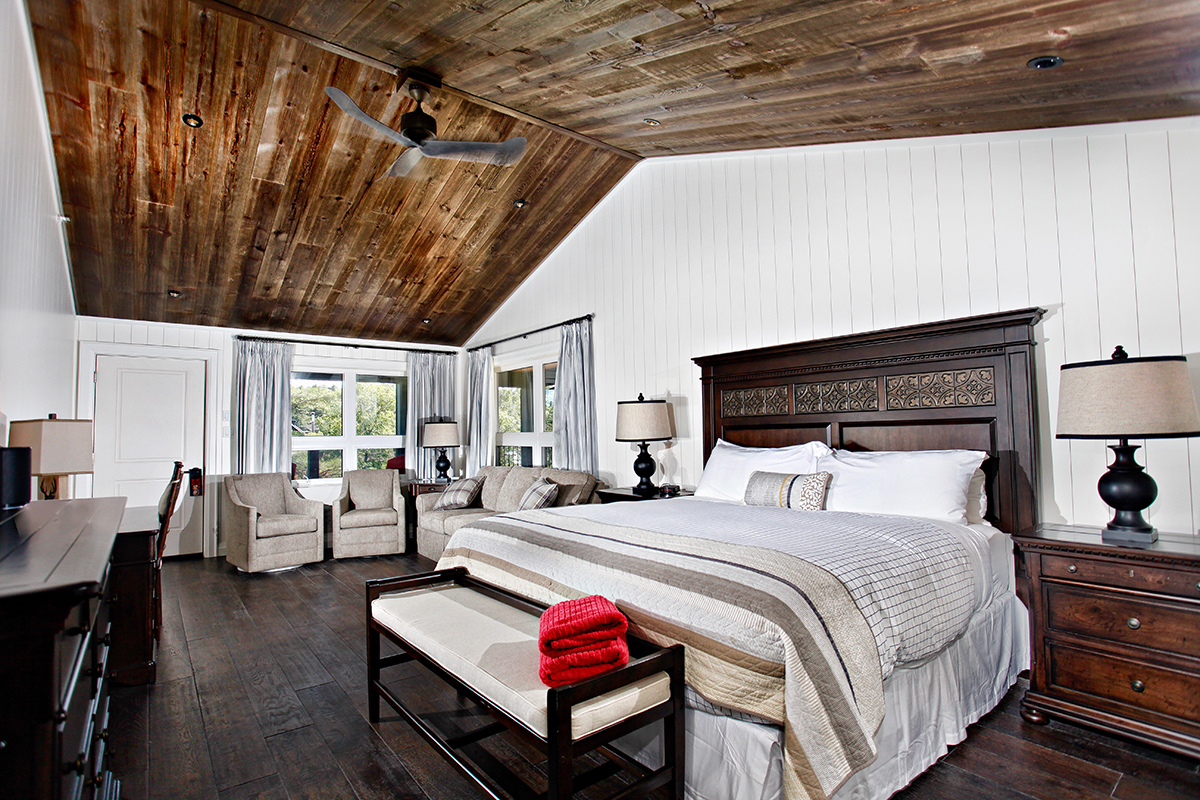 Killarney Mountain Lodge Variety rules at Killarney Mountain. Find lodge-style suites (pictured), pine cabins, private residences and basic dorms.
---
Millcroft Inn & Spa
The Millcroft Inn is set in the rolling hills of Caledon, surrounded by 100 acres of nature and overlooking a pond and Shaw's Creek Falls. Choose from several different accommodations. The Main Mill building was originally constructed in 1881 as a knitting mill and is filled with antiques and old-world charm. The adjacent Manor House, where the mill's owner once lived, has more spacious rooms and a vintage feel to the décor. And the self-contained two-storey chalet-style lodgings or crofts are contemporary rooms with wood-burning fireplaces and private patios—some with their own outdoor hot tub.
Many visitors come here seeking out the pleasures of their spa. As well as treatments, the spa has a fitness studio, an indoor pool and heated outdoor pool, and Scandinavian-style baths: two hot-spring pools and a cold plunge, a Finnish cedar sauna and a eucalyptus steam room.
Enjoy meals in the fine-dining Headwaters Restaurant or the more casual Headwaters Lounge and Patio. Whatever you order, try something sweet. They have their own sugar bush and there are 24 beehives on-site, with options for honey in the restaurant dishes, in jars to take home, and even at their spa—in a Honey Swiss Shower Treatment.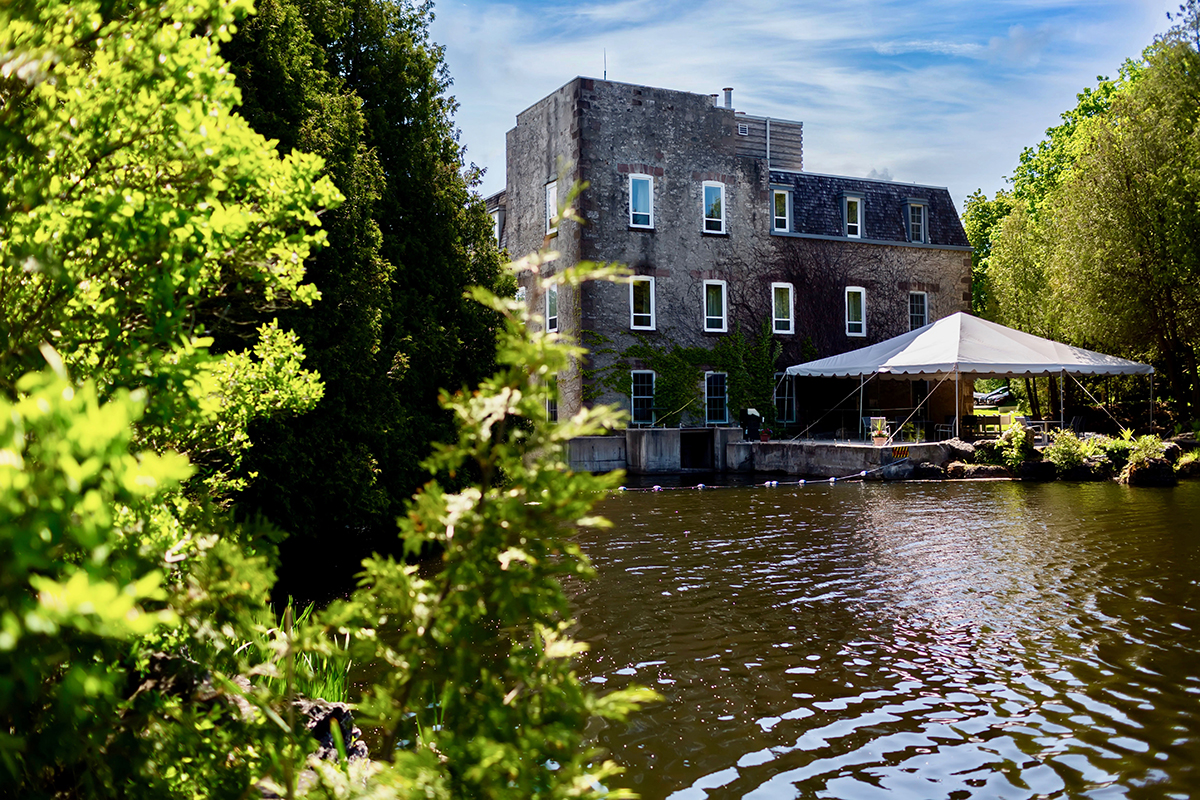 Millcroft Inn & SpaHead to the Caledon hills for the Millcroft Inn's signature heritage hospitality, a mix of modern luxury and antique styling.
---
Long Point Eco-Adventures
On the beautiful north shore of Lake Erie, Long Point Eco-Adventures offers its own brand of romantic luxury—best suited to the outdoor adventurer who wants some comfort and privacy while still getting back to nature. Long Point offers two unique glamping options. Their elite pods are cool little wooden huts, each with a queen bed, hardwood floor, private bathroom with indoor shower, and hydro. Their wilderness suites are similar, except they are safari tents rather than cabins, the beds are king-sized, and the private showers are outdoors. Either choice you make, you'll have your own firepit out front and can choose from packages that combine an overnight stay with nice little add-ons, like a mountain bike tour for two, a fridge stocked with local beer or wine, or breakfast and dinner at the on-site Marshview Patio restaurant, which, yup, has a cool view over marshland. There are also 90 kilometres of mountain bike trails on the property, along with zip-lining, hiking and axe-throwing.
Drive off the property and within a short distance you will reach Long Point Provincial Park, Bacchus Woods and the Long Point Bird Observatory, which are all part of Norfolk County.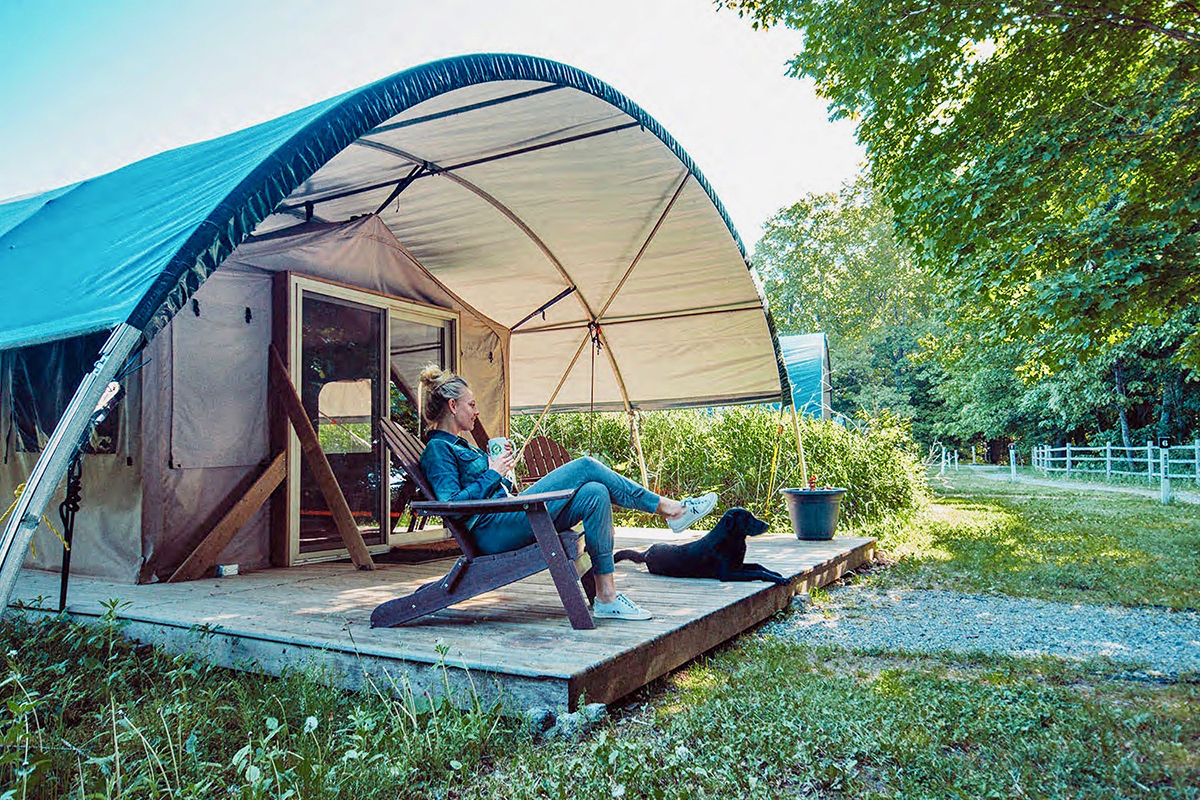 Long Point Eco-Adventures
Glamp it up at Long Point with a tent, a deluxe pod, a cabin or an entire farmhouse.
---
---
Diana Ballon
Diana writes about travel and health, and is most happy when she can combine the two. She likes to cycle and hike. And she loves staying in glam hotel rooms, rather than her messy bedroom at home.